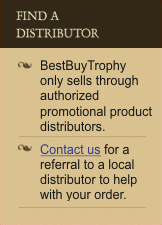 ABOUT US
In 1973, Mark and Dee Dee Lawrence rented a small Los Angeles storefront to provide custom awards, trophies, gifts, and engraving services to the community. Since then, they have expanded into the promotional products business, serving customers nationwide.
With BestBuyTrophy.com, they promise the same quality products and personal service which made them so successful in the retail awards and recognition industry.
The company is a proud member of PPAI, SAGE and ASI.
The Fine Print
Prices and availability are subject to change without notice. All tradenames/trademarks are the properties of their respective owners. Photos may not represent actual product. Typographic errors are subject to correction. BestBuyTrophy.com hereby disclaims all other warranties, including warranties of merchantability and fitness for a particular purpose. Manufacturer warranty, if any, applies; BestBuyTrophy.com does not guarantee product compatibility.
BestBuyTrophy.com HEREBY DISCLAIMS ALL OTHER WARRANTIES; EXPRESSED, IMPLIED, OR STATUTORY, INCLUDING WARRANTIES OF MERCHANTABILITY AND FITNESS FOR A PARTICULAR PURPOSE ARISING OUT OF THE USE OF, OR INABILITY TO USE, THE PRODUCT.
Since 1973
All artwork, copy and processes TM & (c) 2018 by BestBuyTrophy. All rights reserved.